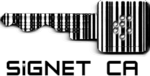 User's guide to SiGNET CA Certificates
This space will provide a simple but detailed manual for the use of OpenCA web portal SiGNET CA provides. Requesting user and host or service certificates, getting certificates, inspecting certificates and root certificate and the use of certificates in browsers will be explained.
User guidelines and obligations will be specified.
Some basic commands form the OpenSSL toolset will be presented.
For a general expalnation of Public Key Infrastructure (PKI), see PKI Introduction, when available.
Please use the SiGNET CA Certification Policy and Certification Practice Statement for now. Remember that you are required to know and understand this document, especially user obligations it defines.
Users that understand their obligations and the functioning and use of SiGNET PKI may find the SiGNET CA Public interface https://signet-ca.ijs.si/pub/ quite self explanatory.
For additional information, see OpenCA User Documentation: http://www.openca.org/openca/docs/.
---